Ely High School 1905-1972 - Hockey
Please contact us if you have more team photos to add to this page.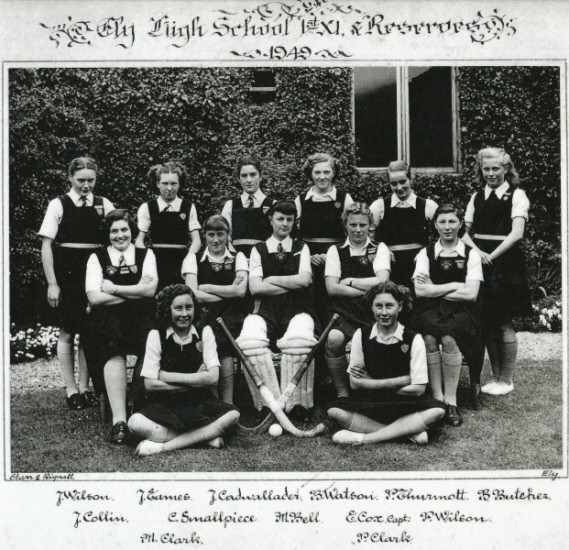 1st XI Hockey & Reserves 1949: J Wilson - J Eames - J Cadwallader - B Watson - P Thurmott - B Butcher
J Collin - C Smallpiece - M Bell - E Cox (Capt) - P Wilson
M Clark - P Clark
via Christine Fuller
---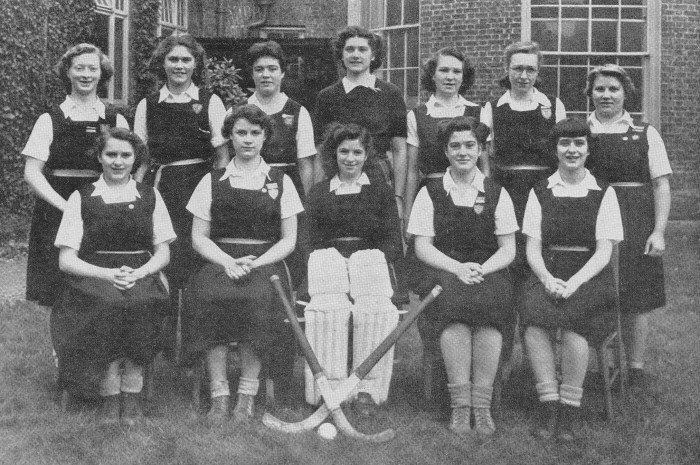 Hockey 1st XI 1951-52
back: J Dunnell - N Breeze - M Cadwallader - Miss L Higson (Games Mistress) - J Eames - M Atkinson - P Cox
front: E Rice - M Latham (Capt) - N Clarke - J Cadwallader - M Taylor
from the July 1952 EHS magazine, via Helen Smith: please let us know if you have an original of this photo
from the July 1952 EHS magazine
Hockey Report.
At the end of this season's play I feel unable to write a favourable report. I fully realise that the team has worked under considerable difficulties but nevertheless I do consider that the results of our matches were very disappointing.
This may be due to lack of practice owing to circumstances which are beyond our control. It is also due largely to the absence of enthusiasm in many parts of the school which is not at all encouraging.
Towards the end of the season there were definite signs of improvement. Also, on the whole, the members of the team had played keenly all the time, yet I still feel that until the whole school shows more enthusiasm about the game we shall have a difficult task to improve our standard.
Next season I hope for better results and I think with extra practice and a little more determination on the part of everybody the matches could easily be won.
L HIGSON, Games Mistress

---


Hockey XI 1953: back: Valerie Ellis - 2 - Marjorie Barber - Margaret Akerman? - Barbara Beamiss - 6
front: Paula Leonard - Mary Taylor - M Latham - Jean Dunnell - Enid Rice
source: Marjorie Miller (Barber): original photo by Starr & Rignall

---

from the May 1959 EHS magazine

Hockey

The standard of Hockey has improved this year, as we have won a match against Newmarket Grammar School, and drawn one against the same school, and, moreover, the scores against us when we have lost, have been less high than formerly. The main fault is still a lack of attack in the circle, but forwards and defence must learn to be quicker on the ball, and to go on tackling until they have it. Unfortunately we were not able to have the House Tournament nor the match between the First XI and the Staff at the end of last term, as the pitches were sodden after a morning's torrential rain.

The following have played for the First XI.

Margaret Burtt
Elizabeth Heffer
Alayne Hoather
Elizabeth Hudson
Glenys Fuller (Capt.)
Mary Pryor
Doris Strawson.
Christine Bell
Mary Strawson
Valerie Teale
Jill Burroughs
Gillian Chapman

The following for the Under 15s XI and Under 14s XI.

Ruth Bester
Elisabeth Rouse
Evelyn Daynes
Moira Everitt
Kay Bedford
Ann Kitchen
Judith Chapman
Christine Howe
Muriel Nicholas
Carol Macer
Frances Read
Jennifer Holmes
Margaret Mott
Christine Inns
Jeannette Inns

Hockey 1st XI 1959: Back: Doris Strawson - Carol Macer - Jill Burroughs - Jenny Drake - Jill Chapman - Alayne Hoather - Miss Stella Cork
Front: Mary Strawson - Elizabeth Heffer - Margaret Burt - Christine Bell - Mary Hazel
source: Stella Cork: IDs Stella Cork, Christine Fuller (Bell)

---


EHS Staff Hockey team 1959: standing: Jane Surgey (Art - Baxandall) - Jean Bunn (English, now a Sister of Notre Dame)
- Doreen Cullen (Maths - Beard) - Margery Penny (Science) - Ruth Johnson (Domestic Science) - Helen Stanyer (Geography) -
Olive Ding-Dong Bell (RE)
kneeling: Stella Cork (PE) - Jill Davis (Latin - Salkeld Green)
source: Stella Cork


EHS Staff Hockey team 1959, with more onlookers: standing: Jane Surgey (Art - Baxandall) - Jean Bunn (English,
now a Sister of Notre Dame) - Doreen Cullen (Maths - Beard) - Margery Penny (Science) - Ruth Johnson (Domestic Science) -
Helen Stanyer (Geography) - Olive Ding-Dong Bell (RE)
kneeling: Stella Cork (PE) - Jill Davis (Latin - Salkeld Green)
source: Stella Cork

---
Spring Term 1961 Hockey XI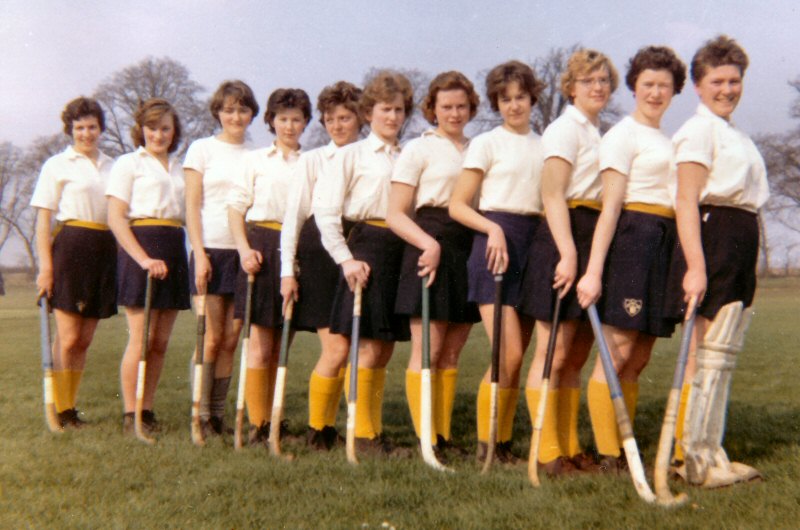 Jill Burroughs - Carol Macer - Jackie Bidwell - Alayne Hoather - Judith Chapman - Kay Bedford ...
... Moira Everitt - Jackie Readhead - Mary Hazel - Chris Bell - Ruth Bester
via Jackie Sotheran (Bidwell)
---

1964 Hockey XI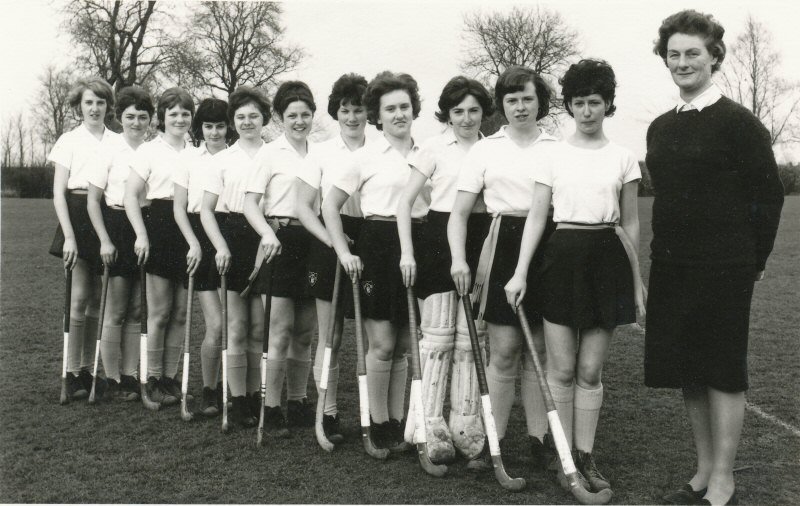 Cynthia Neal - Jackie Bidwell - Mary Wilkins - Linda Willetts - Myra Palmer - Isabel Bray - Bridget Cadnam - Kay Bedford ...
... Christine Mason - Moira Everitt - Audrey Wimpenny: Mrs Gamgee
via Jackie Sotheran (Bidwell)
---
1965-66 season Hockey XI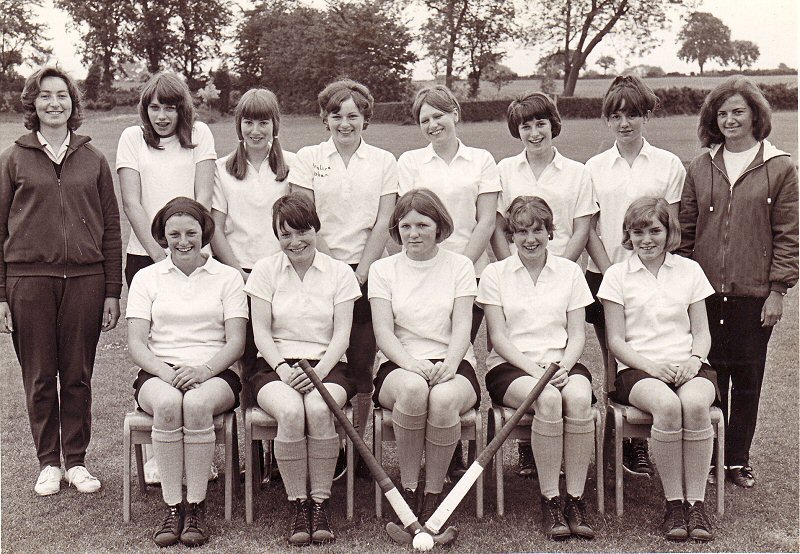 Back row: Miss Hatley, Denise Joyce, Rosemary Dunnett, Caroline Faben, Janet Russell, Ann Stimson, Judy Fernie, Miss Greatorex
Front row: Bridget Palmer, Sandra Taylor, Mary Wilkins, Monica Vince, Wendy Imrie
via Wendy Roberts (Imrie)
edited from the 1965-66 EHS Magazine

GAMES REPORT

Hockey, Autumn 1965-Spring 1966.

Distinctive individual achievement has made this a remarkable season for Ely High School. The success of some of our players has brought credit to themselves, to the School, and has made us realize the accomplishments which are possible.

First of all our warmest congratulations must go to Mary Wilkins, the School Games Captain, who was not only selected for the 1st Cambridgeshire Junior Team, but who pleased the selectors so much that she was chosen for a Junior East of England Trial, and was one of the most successful Cambridgeshire players in this direction.

Three other girls were also chosen from the School team to represent the County, Margaret Allen playing as left back, and Joyce Bowman and Bridget Palmer both played for the Junior County 2nd XI. Bridget at fourteen must surely be one of the youngest players ever chosen to represent the County and proves how the U15 team can be the stepping stone to achievement.

Triumphs by teams were also made. The season began on an encouraging note when both teams entered in the County Seven-a-Side Tournament held at Homerton College on 2nd October were victorious in their respective sections. The season has ended on the same note of hope, for at the Under Fifteen County Tournament, the School team beat four other schools, including the formidable Perse, to reach the final. In a hard fought final the School eventually lost to the Cambridgeshire High School by 1-0, but this was the first time we had reached the final of a County Tournament, and holds great promise for the future.

Four Hockey teams have been active this term, a 1st, 2nd and two Junior Under Fifteen, and Under Fourteen elevens. This means our "bank" of quality players is constantly increasing. A cold November, and wet December and January led to many cancellations in mid-season, and this has been a particularly bad weather Saturday morning season. The Under Fifteen had a good season, losing just one of their matches.

Our thanks must be expressed to Brigid Riley, Susan Peet, and Ann Wade who regularly give up their Saturday mornings to become very efficient tea-girls.

The complete Hockey picture has been clearly illustrated this year - from School to Junior County and Junior Territorial Team, to Senior teams, and - who knows - one day we may go to Wembley to cheer on an Ely High School girl in the International Match.

The Form Hockey Tournament was won by the UVI who beat LIV.I 2-0 in the final.

Results

Oct 2
Cambridgeshire 7-a-Side Hockey Tournament.
1st team - section A
2nd team - section B

won
won
Oct 9
Senior Hockey Tournament
2nd in section
Oct 16

Cambridgeshire High School
1st XI 2-0 won
2nd XI 1-0 won
U-15 XI 0-1 lost
Nov 6
Newmarket Grammar School
1st XI 5-1 lost
U-15 XI 7-0 won
Nov 13
March High School
1st XI 2-2 drew
U-15 XI 2-1 won
20 Nov
St. Mary's Convent
cancelled
27 Nov
Cambridge Grammar School.
cancelled
Jan 22
Cambridgeshire High School
cancelled
Jan 29
Newmarket Grammar School
Ist XI 2-3 lost
U-15 XI 6-0 won
Feb 5
Wisbech High School
cancelled
Feb 12
Downham Market
cancelled
Mar 3
Cambridge Ladies Club
0-2 lost
Mar 5
Junior County Tournament
Section B won
Final 0-1 lost
Mar 13
Wembley
Mar 26
March High School
1st XI 1-2 lost
U-15 XI 1-1 drew

SCHOOL TEAMS, 1965-66

lst XI
2nd XI
U15 XI
U14 XI
GK
LB
RB
LH
CH
RH
LW
LI
CF
RI
RW
Denise Joyce
Margaret Allen
Bridget Palmer
Caroline Faben
Joyce Bowman
Wendy Imrie
Rosemary Dunnett
Judith Fernie
Ann Stimson
Mary Wilkins
Janet Russell
Alison Harper
Susan Crane
Ann Howard
Sandra Taylor
Marilyn Hobbs
Susan Reader
Kathleen Lee
Alison Brown
Linda Cousins
Monica Vince
Myra Palmer
Alison Harper
Susan Crane
Barbara Davis
Susan Reader
Pamela Dunling
Rosalind Hancock
Jill Fryett
Alison Brown
Linda Cousins
Margaret Wright
Kathleen Lee
Christine Gibbon
Hilary Palmer
Barbara Davis
Jacqueline Carter
Pamela Dunling
Rosalind Hancock
Jill Fryett
Valerie Peacock
Susan McAuley
Margaret Wright
Sally Tassell
---
1966-67

from the 1967 EHS magazine

COUNTY U15 TOURNAMENT TEAMS
lst XI
2nd XI
U15 XI
1st
2nd
GK
LB
RB
LH
CH
RH
LW
LI
CF
RI
RW
Alison Harper
Susan Crane
Bridget Palmer
Sandra Taylor
Judith Fernie
Wendy Imrie
Jill Fryett
Monica Vince
Ann Stimson*
Margaret Wright
Janet Russell
Christine Gibbon
Ann Howard
Ann Wade
Margaret Cash
Caroline Faben
Rosalind Hancock
Gillian Symons
Rosemarv Dunnett*
Linda Cousins
Margaret Murrells
Kathleen Lee
Catherine Brown
Jacqueline Buck
Barbara Davis*
Jacqueline Carter
Pamela Dunling
Janet Page
Elaine Munro
Valerie Peacock
Susan McAuley
Sally Tassell
Patricia Maltpress
Catherine Brown
Jacqueline Buck
Debra Acton
Jacqueline Carter
Pamela Dunling
Janet Page
Jill Fryett
Valerie Peacock
Susan McAuley*
Margaret Wright
Patricia Maltpress
Linda Clifton
Hilary Palmer
Lorna Goodjohn
Suzanne Collins
Marion Cross
Rosalind Hancock
Elaine Munro
Elaine Taylor
Angela Jackson
Sally Tassell*
Christine Todd

Reserves: Marion Cross, Lynette Dew, Linda Clifton, Elaine Taylor, Marilyn Hobbs, Angela Faben, Patricia Clarke, Margaret Cash, Suzanne Collins.
*Captains.

March 4th proved a memorable day for Hockey at Ely High School, for on this, a perfect Spring day, the School staged for the first time a County Hockey Tournament, and became County Champions. Under Fifteen Teams from all over the County came to Ely to compete in the Junior Tournament.

The Tournament was arranged in two sections, with a grand final being played at the end between the winners of the sections. Two teams were entered from School. A tremendous effort was made by the 2nd Team, captained by Sally Tassell, who for a long time were level on points with the Perse School 1st Team, but were eventually beaten into third place.

After five exciting matches the School 1st Team, captained by Susan McAuley were the overall winners of their section. Their greatest victory had come, when in ten minutes they defeated the Cambridgeshire High School 1st Team 3 goals to nil.

The Final, therefore had to be played between the School 1st team and Perse School 1st. In this electrifying match the School defence coolly resisted all pressure, whilst the attack pressed hard for goals. The result of the Final was a goalless draw, but in the final calculation of points it was found that Ely had twelve to The Perse School's ten and a half. In the entire tournament the 1st team did not concede a goal, and their leading goalscorer, Margaret Wright scored four.

Mention must be made of the School Senior Hockey Team for the willingness with which they volunteered their help in running the Tournament and the very efficient way they carried out their tasks, and of Brigid Riley, Susan Peet, Ann Wade with their helpers Jennifer Saunders and Hilary Brown, who from 9 am until 1pm capably provided refreshments for the teams.

Cambridgeshire Junior Hockey. Bridget Palmer, Right Back, played for the 1st Junior County Team.
Susan Crane, Left Back, and Monica Vince, Left Inner, played for the 2nd County team. Ann Stimson was chosen as a reserve.

East of England. As a result of her performances for the Junior County Team, Bridget Palmer was chosen to represent Cambridgeshire at the Junior East of England Hockey Trials. This achievement is the more creditable as Bridget has yet two more seasons in Junior Hockey.

School Colours. School Colours were awarded this season to: Ann Stimson CF, Bridget Palmer RB, Susan Crane LB, Monica Vince LI.

Leading Goal Scorers: Margaret Wright with 11 goals for the 1st XI; Susan McAuley with 7 goals for the U15 XI; Linda Cousins with 6 goals for the 2nd XI.
---
from the 1967-68 EHS Magazine

HOCKEY

lst XI
U15 XI
GK
RB
LB
RB
CH
LH
RW
RI
CF
LI
LW
Alison Harper
Bridget Palmer*
Susan Crane
Barbara Davis
Judith Fernie
Sandra Taylor
Valerie Peacock
Margaret Wright
Susan Lever
Monica Vince
Jill Fryett
Linda Clifton/Hilary Brown
Debra Acton
Janet Peacock
Janet Page*
Elaine Munro
Suzanne Collins
Patricia Maltpress
Sandra Smith
Angela Jackson
Elaine Taylor
Stephanie Bedingfield

*Captains.

Reserves: Rosemary Pledge, Julia Brown, Susan McAuley, Sharman Long, Kathleen Lee, Paula Gillam, Marilyn Hobbs.

HOCKEY REPORT

The 1st and Under 15 Hockey XI's have had a very successful season. Both teams have brought credit to the School by winning all their matches but one.

At the Seven-a-Side Tournament held at Homerton College, one of the four teams entered won the Section and at the Cambridgeshire Senior Schools Tournament the 1st XI were equal winners with the Perse.

Junior County Hockey Tournament. The Under 15 Hockey Team reached the climax of their season when they played in the Junior County Tournament and became County Champions, the 2nd year running that Ely High School has gained this honour. Under 15 teams from all over Cambridgeshire and the Isle of Ely met at March High School to play in the tournament. The Tournament was arranged in 4 sections leading to two semi-finals and a final. Our team, captained by Janet Page, won their section, beating March High School by 1½ points. In the semi-final the team met Cambridge High School and a goal by Linda Clifton put them into the final. This was against the Impington team and with a goal scored by Stephanie Bedingfield Ely High School Under 15 Team had won the Tournament. In the entire Tournament the Team did not concede one goal; the leading goalscorer was Elaine Taylor.

The team consisted of: Hilary Brown, Debra Acton, Janet Peacock, Janet Page (Capt), Elaine Munro, Patricia Maltpress, Sandra Smith, Linda Clifton, Elaine Taylor, Stephanie Bedingfield. Reserves: Rosemary Pledge, Julia Brown.

County Hockey. The following girls were selected to go for County Trials: Bridget Palmer, Monica Vince, Susan Lever, Sandra Taylor, Margaret Wright. At the further trials Bridget was selected to play RB for the 1st Junior County XI, Sandra and Monica were chosen to play for the 2nd County XI. Bridget Palmer went with the 1st Junior County XI to Crystal Palace for a week-end of Hockey Coaching.

School Colours. School Colours were awarded this season to: Sandra Taylor, Susan Lever, Judith Fernie.

---

from the 1968-69 EHS Magazine

Hockey

1st XI

A Harper
B Palmer*
S Crane
D Acton
E Munro
S Collins
K Lee
J Grimsey
S Lever
P Maltpress
J Fryett

Under 15 XI

T Elder
J Brown
J Peacock
G Kerridge
C Frost
T Fyson
J Brayley
S Smith
J Robinson
P Tyrell
S Bedingfield*

Reserves: E Taylor, S Hill, P Tyrrell, P Clarke
lst XI School Colours: K Lee, D Acton
* Captains
---
from the 1969-70 EHS magazine

HOCKEY - Autumn and Spring Terms, 1969-70

lst XI
U15 XI
GK
RB
LB
RB
CH
LH
RW
RI
CF
LI
LW
M Adam
L Whitwood/J Brown
D Acton
J Page
E Munro (Capt)
G Kerridge/T Fyson
J Fryett
L Clifton/J Peacock
S Collins
R Pledge
J Brayley
A Jansens
C Human
E Lawrence
J Clarke/O Judd
M Sulman
S Hill
E Heaps
C Martin
L Myson (Capt)
M Bartlett
C Taylor

U13 XI

J Brown
E Gilbert
J Faux
T Stevens
S Glover (Capt)
L Briggs
A Crofts
D Judd
S Steel
J Freeman
J Bullock

Hockey colours awarded to: S Collins, J Fryett, E Munro

J Brayley and D Acton were selected to play for the County Junior Hockey Team and enjoyed a weekend training Course for County teams at Crystal Palace.

---

from the last EHS magazine

Hockey

lst XI
U14 XI
GK
RB
LB
RB
CH
LH
RW
RI
CF
LI
LW
E Gilbert
J Brown
L Whitwood
J Norris
M Sulman
G Kerridge
E Heaps
J Ashman
J Peacock
G Collins (Capt)
E Norman
C Law/J Cosgrove
J Braybrook
R Wenham
S Norris
S Gammon
A Jackson
R Anderson
L Young
A Count
P Seaton (Capt)
J Rich
MATCH RESULTS

Team
Played
Won
Lost
Drawn
1st XI
9
2
4
3
U14 XI
7
2
5
0
U16
1
0
0
1
2nd Year
1
0
0
1
Combined Needhams
Ely High School U15
1
0
0
1

Janet Peacock, Elizabeth Heaps, Maureen Sulman and Gillian Collins attended County Trials and as a result Maureen Sulman was selected to represent the County Junior 1st XI.

The teams had mixed fortunes during the season, but all the matches were played in good spirit and enjoyed by all.

---

If you can add to this page please contact us
page created 6 Jan 11: updated 17 Apr 11