Ely High School 1905-1972 - July 1915 Gym Display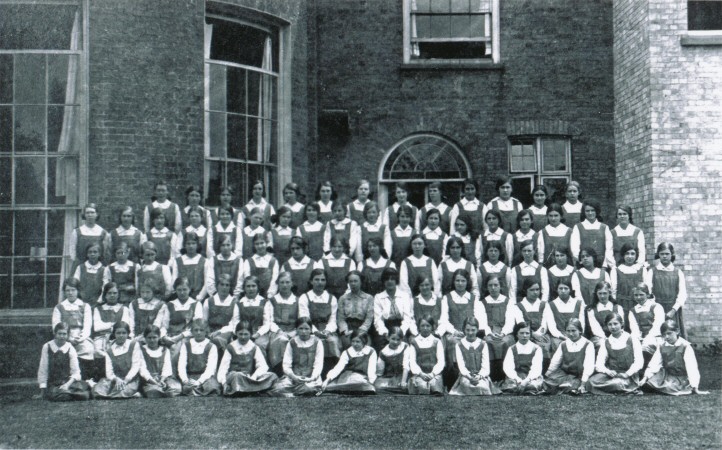 The full photo, reproduced with the permission of the Cambridgeshire Collection, neg ref 95-1-12: via Christine Fuller.

Christine wrote she had been looking at Dorothy Defew on this photo. Defe was born in 1901 and it was believed that the photo, originally thought to be pre-1929, was therefore 1920 or earlier.

In October 2013 Rosemary Mahy (née Cranwell) wrote: I have in my possession the same photograph of the group of girls but mine is usefully captioned in ink on the back as 'Bedford House, Ely High School, Summer Term July 1915 Gym Display'. The photograph belonged to one of my aunts who appears in the photograph with her sister. They are 2 of 3 row 2-6 Dorothy Kate Cranwell and in 3 of 3 row 2-2 Florence Cranwell.

Dorothy was born in 1897 and Florence 1899. They are in fact pretty much sitting next to each other with one other girl between them. Neither aunt married. I believe Dorothy taught at Witchford and lived in Ely until she died in 1969, Florence became a nurse and worked at various places around England, although she returned to Ely in her retirement she moved to Cheltenham in her last couple of years where she died in 1980.

Margaret Allen (EHS 59-66, now Cockburn) wrote in November 2015: The 1915 photo has interesting connections for me. Dorothy Cranwell was my first teacher at Witchford Primary School in 1954. I was in her class for two years and I remember her fondly. Dorothy Defew was English teacher and Deputy Head when I was at High school and I also have fond memories of her.
I think my Aunt, Constance Allen, must also be in the photo as I know she was in the same class as Miss Defew. She went on to a teacher training college in Norwich but unfortunately died before I was born.

This photograph is the oldest large group/school photo we have so far.
The quality of the image is not good but some identifications might be possible in the sections shown below:
A School Photo 'pre 1929'

1 of 3

back 5: 1 - 2 - 3

row 4: 1 - 2 - 3 - 4 - 5

row 3: 1 - 2 - 3 - 4 - 5

row 2: 1 - 2 - 3 - 4 - 5

front 1: 1 - 2 - 3 - 4 - ( )

A School Photo 'pre 1929'

2 of 3

back 5: ( ) - 1 - 2 - 3 - Dorothy Defew - 5 - 6

row 4: ( ) - 1 - 2 - 3 - 4 - 5 - 6 - 7

row 3: ( ) - 1 - 2 - 3 - 4 - 5

row 2: ( ) - 1 - 2 - 3 - Miss EE Fletcher (Headmistress) - 5 - Dorothy Kate Cranwell

front 1: 1 - 2 - 3 - 4 - 5

A School Photo 'pre 1929'

3 of 3

back 5: 1 - 2 - 3 - 4

row 4: 1 - 2 - 3 - 4 - 5 - 6

row 3: 1 - 2 - 3 - 4 - 5 - 6 - 7

row 2: 1 - Florence Cranwell - 3 - 4 - 5 - 6

front 1: 1 - 2 - 3 - 4 - 5
Names on the photo are as when at school, identifier names are 'now and then'.
If you can add names or recollections please contact us
Identifiers: Christine Bell (now Fuller), Rosemary Cranwell (now Mahy)
page created 23 Jul 10: last updated 24 Jan 16